Before I start my post, I just have to say that I am such a happy teacher when there is something good to snack on in the teacher's lunch room. Today there were…cream puffs and eclairs! I mean, who would just give those away. I snagged a healthy amount without over doing it
to enjoy this morning!
Yesterday I posted on my teacher haul at Target, Walmart and Party City. I had a lovely invitation to linkup with
A Teacher Without a Classroom
for a
Dollar Days Linky
!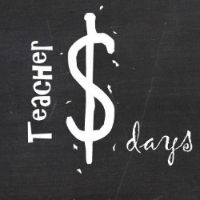 Click
here
to check out my post from yesterday!
I tried out the 7ish dollar pencil sharpener from Walmart (x-acto brand) and have to say it is a pretty good little sharpener! It has a suction cup mount, so I think I will need to have hubby figure out some way to mount it more properly. It got us through sharpening pencils for our first day of testing.
These little rings from Party City were quite a hit! I told they kids they were to remind them to read carefully and check their work. I gave them out after the test and the kids promptly had staring contests – they thought the joke was hilarious!
I had also mentioned a little video I watched about putting together kits for guided reading so that you don't have to hand out materials all the time. I found it! It is from
Jan Richardson's site
. She Wrote: The Next Step in Guided Reading.
I cant' seem to get this video to embed, so, click on the link below to access the clip.
Have a great day!