Courtney at Swimming into Second is having a Top Ten Linky on what a dream classroom would look or be like! What an awesome idea for a linky!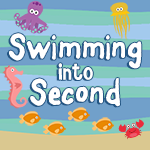 I posted a wish list a couple days ago, but I can always add to it! I have a relatively new room, and it is completely new to me this year. However, it is the same layout as my room last year, so I have a good idea of the issues I face.
1. Classroom Carpet – I didn't have a carpet last year with my third graders, but I still feel like second graders need a defined meeting space. This is the one I am thinking of. I love the great colors!
2. IKEA Stools – I was going to make the bucket stools after my ottomans from Big Lots died a quick death last year, but realized that it would be worth the money to order IKEA stools and have them delivered. I started making the bucket stools and it would take days! I'm planning to buy these and paint them in bright colors to match my room. You can never have enough seating.
3. Tables! - This is a hard one. It is like the file folder versus binder debate for me. Which is better? Tables or desks? I love the ability to move and regroup desks, but I love the clean lines of tables. I think I miss tables. I love these small round one for 4 or 5 kids from Lakeshore.
4. Coat Storage – Preferably with doors that I can close on the mess! I had cubbies in first grade, and they had their issues, but it was better than the open hooks I have now. Ugh! What a mess!
5. iPads – I would love to have a class set, or even a half class set of iPads. They are so amazing to use in the classroom!
6. A Pretty View
- I had a view (and the sound) of the playground last year. I think my shades were closed almost all day. So sad! This year I will have a view of a storage garage and the parking lot. I miss my view of the woods from the other building!
7. Storage – I'm not sure what my ideal with be, but the metal cupboards with sliding doors that come of their track are just not workin' for me. At one school I had a 12 foot wall of 4 deep cabinets that went floor to ceiling. They drove me crazy then, but I did not have nearly enough stuff to fill them back in. Now I love to have them!
8. Bright and Cheery Décor – I would love to have a picture perfect room. It is hard to keep up with all of those beautiful rooms you see on blogs. I would love to have that decorators touch!
9. Organized and Beautiful Classroom Library – The library is the most challenging part of the classroom for me to organize. I would love to have a large and beautiful library with all the current books!
10. A Teacher Area – I would love to have a personal bathroom and little kitchenette type area. I will be closer to the restrooms this year, but wouldn't it be great to have your own little area. I have a little shelf with a kuerig and some snacks, but it would be lovely to have a little refrigerator and microwave for those long days, late nights, and weekend jam sessions!
I know I will think of a million things as I go about my day, but these are the things that would make a dream classroom for me! Link up with Swimming into Second and share your dream room!
I am off to teach a workshop on digital writing and publishing today! Wish me luck!