Whew! I finished my power point and packing for my presentation tomorrow! To celebrate I am sharing a helper for writing workshop that I used years ago when I taught third and fourth. This is a clip chart for writing workshop. Students place their clips on the stage they are in. This may only be a freebies for a short period of time, as I might put it in a TPT store – still debating about that!
---
I am linking up with Amanda Madden at Teaching Maddeness for a Resolution Linky!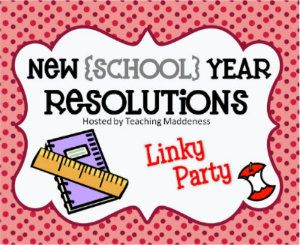 Resolution #1: I'd like to share more pictures and ideas on my blog. Hopefully, with a fresh start in a new grade, I can start without being, and staying, overwhelmed!
Resolution #2: Stay organized! With moving into a new room, I am starting fresh – purging and organizing. My goal is to keep it that way and keep control of the paper clutter and grading.
Resolution #3: Have confidence. That's hard to admit, but I think I have been feeling a lack of self-confidence the past few years. I think with a grade level that I love and feel great about, some of that confidence will return. I really want to be myself and "compete" (for the lack of a better word) with the strong personalities around me.
Resolution #4: Work smarter, not harder. I pushed the morning time to the very limit the last couple years just for sanity sake. I want to start getting to work earlier and being productive during that time. I want to streamline my procedures and leave work between 4:00 and 4:30, like I used to when I taught 3/4.
On a related note, I found this little piece of subway art at TJ Maxx. I was a lonely drop-off on the shelves by the register and I had to pick it up the second time I saw it there. I thought it would be great to hang in my room to keep my perspective.
---
Oh! My! I just found this Biscoff Spread. LOL! I am currently eating it with a spoon. It tastes like those spicy windmill cookies you can find in the bulk section of some grocery stores. A little bit like a spicy girl scout shortbread cookie. I guess Trader Joe's sells it for 8.99, but I found it at Wegman's – the grocery store of all grocery stores – for 3.99! We don't have a Trader Joe's anywhere in the area yet. I don't think I will have enough left to do anything with it! I think it would make a great substitute for peanut butter in sandwiches this year – and there are no peanuts in it.
Off to close everything up before the much-needed rain arrives! Have a great one!