1. She's Here!!!!!
She's here!  My niece was born at 4:11 on Saturday.  I can't believe my sister-in-law was up and eating, ready for guests less than 2 hours later!  Oh my word, is she a sweety!  Round little cheeks, a head of brown hair, and so quiet.  I can't believe that my "little" brother is a dad!  I say little, because he is about 6 years younger than me, buy is 6' 2" to my 5' 3".  He literally can use my head as an elbow rest.  He just about brought me to tears holding his little girl.  He is a police officer, but looked a little less than tough with the baby!  I would love to post a pic., but I want to respect their privacy.
---
2. I was Tagged!
Mona at the First Grade Schoolhouse tagged me!
1. How many students are enrolled in your class? 21 kiddos
2. What is one of your favorite children's literature books? Wow! That is hard! Umm…I guess it would be Sylvester and the Magic Pebble. My kids were absolutely enthralled when I read it last week and my grandmother, who was a kindergarten teacher, used to read it to me when I was little.
3. Do you have a computer lab at your school? No – we have a personal laptop and 6 desktops in every classroom, plus a small bank of 4 in the library.
4. Do you have any pets? If so, how many and what kind? Yes, 3 – long haired gray cat named Murphy, long haired brindle color cat names Mazey, and a pitbull/chocolate lab mix dog names Bear (plus a farm full of cows, pigs, sheep, goats, donkeys, chickens, turkeys, cats, and dogs)
5. Have you always taught at the same school? No – 4 different schools in 11 years
6. Do you teach math in the morning or afternoon? Depends on the day and the revolving door of my classroom.  I prefer it because the kids are more calm and ready to learn.
7. Do you have a class theme for the year? Not really. Generally, I just keep a loose frog theme.
8. What vegetable will you not eat? canned peas (They are yummy fresh!) Anything canned for that matter! 
9. What is your favorite flower? Iris 
10. How many times have you changed grade levels? Does looping count? I changed grades/positions every year for the first 6 years of teaching and have been in 1st at the same school for 5 years now.  A change could be coming next year.
Up next…I think I am supposed to tag some folks.  I'll work on that – my brain is not really functioning the first day back from break!
---
3. Linky and Giveaway!
I would love to hear ideas from everyone out there! I love finding new resources and ideas through the blog world. Link up to the Linky Party and share the technology resources and activities that you use in your classroom for centers!

Please, please, please share something through the linky, even if it is just a quick blurb!  I would love to hear how people are using iPods – where do you find free apps? Any great online resources for centers? I would LOVE to get some great new sites!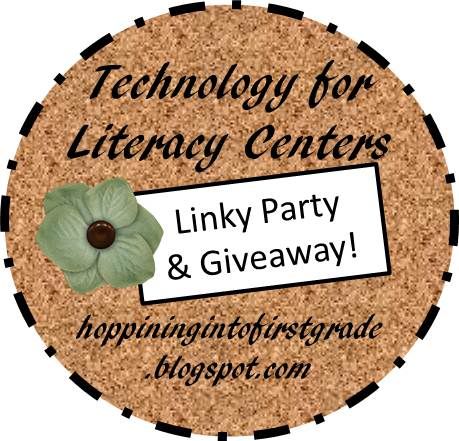 This is also a giveaway! The winner will win a $25 gift certificate to Amazon.com!


Leave me a comment on the main page for each of the entries you make.
***The giveaway has been extended to Friday, April 20th at midnight!***
Ways to enter:
1 - Link up with the linky party - Click here.
2 – Add the linky party badge to your blog
3 - Follow me
4 – Follow me on Pinterest (click on the left or go to: http://pinterest.com/christine1st/)
5 - Blog about this party and giveaway on your blog

I can't wait to find some wonderful new ideas!