How do you use technology during literacy centers? I thought I would put together a few posts about how I integrate technology into my center routine. This is also a Linky Party and a giveaway – see below for the details!
Click on the previous days to link back to other posts.
Day 1: Organization of Centers and Tools for Centers
Day 2: Listening Centers
Day 3: Work on Reading
Day 4: Work on Words
Day 5: Work on Writing
---
Today is Day 3!
Reading using technology is a bit more challenging because there are few books that are readily available for use without access to technology such as a Kindle, iPad, iPod, or other expensive items that are not overly prevalent in most classrooms at this point.  The materials themselves also tend to be costly.  As I wrote this post, ideas popped into my head that stretched what I thought of when I thought of an independent reading center and expanded the resources available for student use during this time.
1. Reading on the Computer 
Many of the same resources for listening to reading can be used without a sound feature to practice reading skills.  Storyline Online and Magic Keys are 2 free resources on the net. Again, be careful of the tooth fairy story on Story Online.
National Geographic Young Explorer gives children access to their past issues of National Geographic. This has been fantastic in my classroom. We subscribe to the magazine and put the issue on the Promethean Board for an interactive experience, but I also love that the kids can go on to read and listen later at centers. The access to the online version is free.
Pebble Go offers students access to non-fiction articles about animals and earth and space.  BookFlix pairs fiction and non-fiction books for students to read.  Both of these sites are subscription based.
We Give Books – is a site that gives access to many different books.  They can be read on the computer or an electronic whiteboard.
News sites, kids television sites,  and classroom magazines also offer access to articles and reading material.  If you are a subscriber, you gain access to much more.  Most of the articles that you can access for free are for older elementary students.  Rather than have students navigate the site themselves,  I usually put a link to the article on a Promethean/Smartboard page and lock it in or drag a link to the desktop.  You can also put a link on a website for students to access. Click on the logos for a link.
Another resources available to schools is online Encyclopedias and Databases.  My district recently bought a subscription to World Book Encyclopedia.  they have amazing resources!
2. Author Websites
I'm cheating a bit here, because there are just not a lot of cheap or free resources for kids to practice reading books on the internet.  However, author websites provide students with a great way to interact with author's, books, and characters.  Many authors have amazing websites that provide students with great experiences1  What a better way to get students excited about reading!
This site provides many, many links to author websites.  Of course, you can search for specific authors.
3. Reading Rockets Author Interviews
Reading rockets offers great interviews with authors.  While not actual reading, students can learn more about author's and the books the kids are reading.  This is great for an author's study or a unit on author's craft.
 4. Into the Book
This website provides students with video clips and activities to experience reading strategies.  Access to this site during the reading block provides students with access to resources to practice strategies you are teaching.  This site lends itself to upper elementary students.
5. Reading A to Z and Raz Kids
These 2 sites are subscription based.  Many schools buy subscriptions.  They do have access to some free books.  Raz Kids provides a whole program where students can work through books at their level.  They offer a small selection of free materials.
6. Leap Pads
Last year I began to incorporate Leap Pads into my classroom. Now that the prices have gone down, I found 3 on Ebay and have found the books and cartridges on Ebay and at thrift stores and garage sales. I put these in as a listening center once a week. The books are not always pure listening, but it works. I store the Leap Pads in a Sterlite file box – 3 fit nicely. The games go in a second one.

7. Public Library
My library system has a nice selection of kids books that can be downloaded for reading.  They can be used o a pc or some can be downloaded to a Kindle.  You would have to check them out on a personal card and there is a limit to how many can be checked out.  Many of the books in my system are for upper elementary and young adult students. The collections are growing very quickly!
8. Webquests
Remember webquests?!? I created several of these as an undergrad.  They were the latest in technology back then.  The idea is to guide students through online resources to access information for inquiry or to gain information about a topic.  These activities are a great way to have students read and write during centers in a way that provides them with guided instruction on a specific topic.  Here are a couple sources that compile webquests.  You can also search for webquests on a specific topic or create your own.

---
I would love to hear ideas from everyone out there! I love finding new resources and ideas through the blog world. Link up to the Linky Party and share the technology resources and activities that you use in your classroom for centers!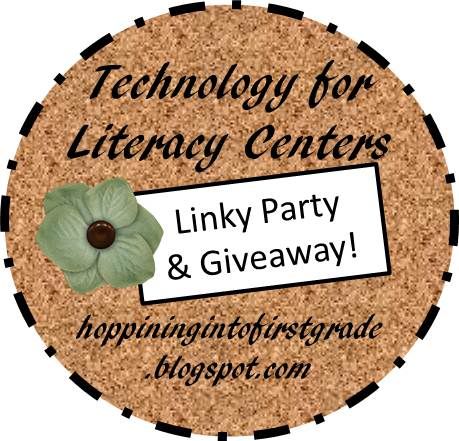 This is also a giveaway! The winner will win a $25 gift certificate to Amazon.com!


Leave me a comment on the main page for each of the entries you make.
***The giveaway has been extended to Friday, April 20th at midnight!***
Ways to enter:
1 - Link up with the linky party - Click here.
2 – Add the linky party badge to your blog
3 - Follow me
4 – Follow me on Pinterest (click on the left or go to: http://pinterest.com/christine1st/)
5 - Blog about this party and giveaway on your blog

I can't wait to find some wonderful new ideas!