How do you use technology during literacy centers? I thought I would put together a few posts about how I integrate technology into my center routine. This is also a Linky Party and a giveaway – see below for the details!
Day 1: Organization of Centers
Day 2: Listening Centers
Day 3: Work on Reading
Day 4: Work on Words
Day 5: Work on Writing
Day 6: Tools for Centers
---
Today is Day 1!
When I thought about it, I was amazed at the amount of technology I have added to my center routine over the last 5 years. I am fortunate to work in a district where we have access to many different types of technology and are actively encouraged to use it daily.
1. Promethean Board
We have Promethean Boards, they are very similar to Smart Boards. Some teachers use them for center activities. However, with the central location and the ability to temporarily display charts and then make the go away when not needed, I use it to organize my centers.
I created a chart for my center rotations:
The frog is me, for a guided reading group. The pencil was handwriting. I have moved it to word work now. The color dots are for each of my groups. To keep my sanity, I put the groups in order of level according to the rainbow. Does that make sense? My top group is red, the next is orange, then green, blue, and purple. It helps to keep my sanity.
I can move the colors around to move groups. I also write all of the names of the students in the groups on the side so they remember what color they are, when needed. At the beginning of the year, I add an arrow under the center we are on so the students know where they are headed for that time.
I set the timer for 15-20 minutes, depending on the time of year. I program the "chime" with a song that give the kids about 2 minutes to clean up and move into the next center. They know that by the end of the song they need to be started with the next task. It is fun to mix it up. It keeps the kids on their toes!
I printed out the chart on a poster maker to hang when there is a sub because I do not leave my laptop for a substitute.
2. Talk Points from Learning Resources
My next little toy for centers is Talk Points from Learning Resources. I LOVE, LOVE, LOVE these! You can record 30 second of a message on each one. I record the directions for a center and then leave it in that center. The students can tap it once to get their direction. It is like having a clone! I found them on Amazon for about $35 for 5. They are also great for working with kids who struggle with short term memory or language, because they can record their idea and refer to it as many times as needed. These little guys have now been purchased by our speech and language teacher, and the building has purchased a large set for the building to use!
3. IPEVO Point 2 View USB Camera
I love this little guy! We have 1 document camera in our building and it is always out. Plus, I just don't think about things I might need days in advance to sign them out earlier. So, I purchased this little baby from Amazon for $69. It has been great from demonstrating games and working on papers with the whole class. I have used it to teach games and other hands on activities for centers.
4.
Class Dojo
I read about Class Dojo on a blog last year (Mrs. Bainbridge, I believe). It is a great little program to help manage center behaviors. You can add points for students who are following the rules. You can even use an IPod to update the points during centers. I loved how this worked! Unfortunately, I (begin honest here) had a few objections on the home front. I think I will give this a try next year with a (hopefully) less sensitive group. Click on the image to go to the site where you can create a free set-up for your class.
5. Sqworl
Yet another blog find (I can't remember who posted about this, but will be happy to credit if anyone knows)! Sqworl is a great site where you can park your links for students during centers. It is a bit like Pinterest! You can create categories and images for the different sites you want to give them access to. The only bummer is that there are ads. You can pay a very small fee to have no ads. It is great to click on a button on your task bar and link a site as soon as you find it!
6. Promethean Version of Sqworl
Here is my version of Sqworl! Promethean Board allows the create of pages where you can lock in a link and an image on a page. For example, I have a Listening Center Chart that is anchored to my student desktops. Students click on the chart and it opens a page with all of the links students are allowed to access during centers. That way, I can give them access to a few choices and it limits what they can do – no Legoland allowed!
7. A Teacher's Timer
A New Find – I found this great application on a blog (again, can't remember where – if you know I would be glad to site). Teacher's Timer is an ap on Teacher's notebook. Her is the description on the site: "The teacher's timer is a simple application that is designed for running stations. By specifying the length of time for each station (and any setup and cleanup times), the program will announce when its time to change stations and when its time to cleanup. In addition, you can import your favorite MP3s to play in the background. The program will automatically mute the music when making announcements.The teacher's timer could also be configured to time quizzes and exams. Each configuration can be saved to a file so that you can quickly switch between configurations."
I can't wait to try this out! I love that you can add songs!
8. iPod
Okay, this is one I am working on! I love to use music in the classroom and I have read a bit about using an iPod to organize it. I have yet to buy one, but am thinking I need to splurge. I love the idea of having an easy way to put some classical or nature music in the classroom during centers.
---
I would love to hear ideas from everyone out there! I love finding new resources and ideas through the blog world. Link up to the Linky Party and share the technology resources and activities that you use in your classroom for centers!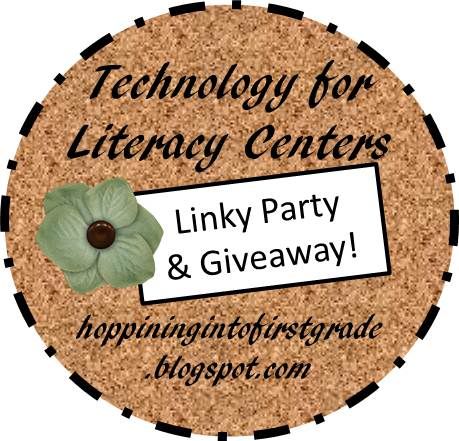 This is also a giveaway! The winner will win a $25 gift certificate to Amazon.com!
Leave me a comment on the
main page
for
each of the entries
you make. Giveaway will end Monday, April 16th at midnight, but the linky will continue. Ways to enter:
1 - Link up with the
linky party
-
Click here.
2 – Add the
linky party
badge to your blog
3 - Follow me
4 – Follow me on Pinterest (click on the left or go to:
http://pinterest.com/christine1st/
)
5 - Blog about this party and giveaway on your blog
I can't wait to find some wonderful new ideas!