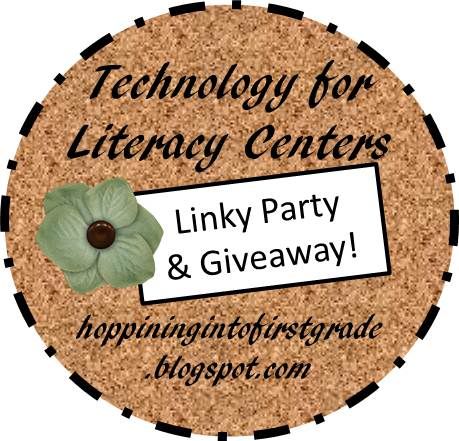 Day 1: Organization of Centers and Tools for Centers
Day 2: Listening Centers
Day 3: Work on Reading
Day 4: Work on Spelling
Day 5: Work on Phonics
Day 6: Word on Vocabulary/Grammar
Day 7; Work on Sight Words
Day 8: Work on Writing
I split Work Work into 4 different areas of focus: sight words, spelling, phonics, and vocabulary/grammar. Today, let's chat about phonics. If you have any ideas or resources to add, I would really love to hear them. Please link up to the Linky Party at the bottom! Remember - you can link to an old post on your site or share any idea you use during centers.
1. Online Resources
Starfall
and
Between the Lions
have wonderful phonics games for younger children. They are free and my students love them.
Read Write Think.org
is also an amazing resource. It has lesson ideas and activities for all areas of literacies. I have linked 3 games that my kids LOVE to play!
2. IPods and IPads
I have been fortunate to borrow a set of 10 iPods from our local educational organization that supports districts and teacher staff development. I would love to order some for permanent use, but need to find the funding. There are a ton of amazing and free apps for phonics available through the Apple Store. Here are a few:
3. Other Tools:
A few years ago, Scholastic has these hand held games for sale and I bought a set of 6. They have word family games and sight word games on them. The kids seriously love playing video games in class!
Another fun find, readily available in teaching material catalogs are Hot Dots. The cards provide students with practice on a variety of skills in a multiple choice format. The pen tells the kids whether they are correct or not. Not only do they practice skills, but also get practice with test taking skills. This is another really popular activity during centers.
Of course, Leap Pads also provide great practice with phonics skills. I have purchases 3 units for really cheap on EBay and have hunted the games and books at Goodwill and yard sales. I have amassed quite a collection and they are a great alternative to using the computers.
We have Kid Pix on all of our computers at school. Kids can use the various functions to create pictures with drawings, stickers, and stamps. It is fun to have them create a picture of collection of objects that have a particular phonics pattern. For example, they can add pictures and stamp with the short a sound. Their work and be checked when you have them print.

Smartboard/Promethean Boards:
Many classrooms have electronic whiteboards. This is a great tool for children to mark up a text or sort words. We use Words Their Way at our school for phonics instruction. There are many activities that can be downloaded for the Promethean board on Promethean Planet. Similar to the use of Kispirations, you can create a sort with focus words. We have a teacher who created units with sorts and poems on the Promethean. It is pretty quick to pull a couple pictures for students to sort according to phonics feature. Promethean Planet and SMART Exchange have searchable resources for phonics practice.
Some teachers have students use the application on the electronic whiteboards during centers. I have always found it to be distracting. I have a Promethean Board in my classroom and the software, Active Inspire, is also on the desktops. So, the kids can use the same activities on their individual computers. Students can print their work if you wish to check is and then x out unsaved to preserve the activity for another student.


This format is also a great way for students to interact with poetry and mark up text for a word hunt. The Active Inspire software allows students to highlight or circle text. Students can read a poem containing the focus features and then mark words with the identified sounds. To take the activity a step further, they could print or record the words they find.
Kidspiration is a program for the computer that provides tools to make graphic organizers. This function also allows various activities to be created where students can sort words or pictures in the program. The secret is having the students print their work when they are finished and then having them cancel out without saving. That way the template is available for the next child. And example from Putting the Pieces Together is below. Check on either icons to go there.
Don't forget about the
Linky
Party! Please consider linking up and checking out the great resources already posted. The party has been extended!