First, I have been sprucing up around here! I added a header and some buttons. I also added a link to follow through Bloglovin. It seems like most teacher sites are going in that direction since Google Reader is ending. Ugh! Huge annoyance! It was so easy to have everything through Google and now it's just a pain!
I also changed the name and address of my blog. Hopefully that won't be too confusing! I just thought I should go with a more general name since I have no idea what grade I will be in from year to year and it takes hours to change everything over to another domain name. I will take some time to change over my TPT items – a great summer project!
Miss Kindergarten, A Cupcake for the Teacher, and A Modern Teacher are having a Summer Bucket List Linky Party to share the fun things you have planned for summer vacation!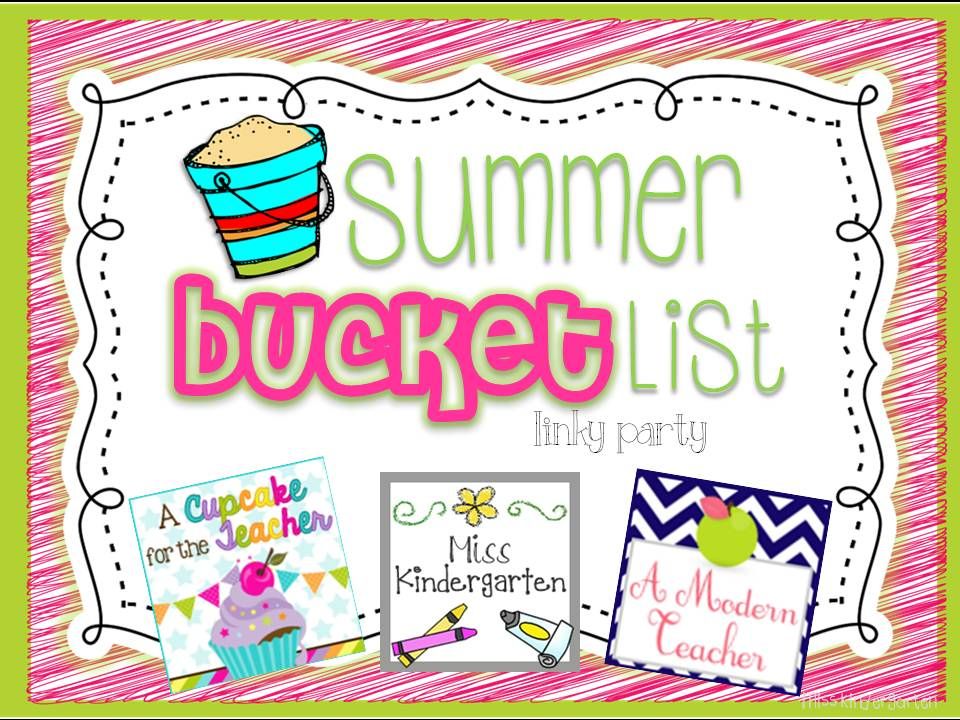 Oh, my…it's coming…right? I cannot wait for summer! think I might have already done this linky a few weeks ago, but wasn't really able to think about summer then.
Read, Read, Read! I can't wait to read just for fun and I have a gigantic list waiting for me!
Move my classroom and organize. Is seven moves in 12 years a record? My room is exactly the same layout as my room now, so that will help a bit.
Learn a new curriculum and plan. I am excited about teaching new things. That is one of the things I both love and hate about teaching. I hate doing the same thing over and over again – it would drive me crazy. On the other hand, it is hard to get better at something if you never get to make improvements on what you did.
Pass quantitative Research Methods – yikes! I never took a statistics class and a whole research class on creating and analyzing stats just has me breaking out in hives. I can do it though! I will survive it! We already have study groups planned!
Build a deck. We added a deck on the back of our house about 8 years ago and now it is time to do the front. The boards are awful and we want to make it bigger. I love power tools!
This is the front deck – I know, not a great picture but it's what I have. We tore out the bushes last fall and we want to extend the deck to the corner of the house and make it wider.
Plan two workshops. I am slated to teach two technology workshop. I have the gist of what I want to say and do, but I am just chomping at the bit to start designing them. I am trying to make myself wait until I have finished the year and moved my classroom!
Work on TPT stuff. I started TPT in March and put a few quick things up that I had already created for my students. I made them cuter, but they already existed in my files. I have so many ideas for creating new products, I just need the time to create. I want to revamp my reading workshop units and put them up. It's just a matter of pulling everything together and getting it ready for other people.
Take an art class. Yeah, no exercising for me – I just can't do it! I want to take an art class – maybe painting or photography or flower arranging.
Have a garage sale. In my area that is a challenge. We have maybe 50 cars go by our house in a day. I have the great desire to purge and would love to make a bit of extra money off my extra things.
I'm sure I'll add a few more ideas as we eek towards vacation! 19 more days!!! What are your plans?