Funky First Grade Fun is hosting a Linky Party on our most favorite mentor texts.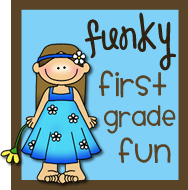 David's Drawings by Cathryn Falwell is a fantastic book for teaching students how to expand their stories and add details.  David makes a simple drawing of a tree.  As he shows it to others, he gets suggestions on how to add to his drawing.  This is a great connection to writing and how students can add details to their writing to produce an even better piece.  It is also great to introduce peer editing.
I love using any book by Cynthia Rylant and some by Patricia Polacco to teach narrative writing.  Both author are great about taking a moment in their lives and making it into a story.
Reading Rockets is a great source for author interviews.  There are clips that support writer's craft lesson and the students are enthralled to see their favorite writers talking about their work.
I Love You the Purplest, by Barbara Joosse, is a fantastic book to teach students more complex sentence structures and how to include interesting adjectives in their writing.  I love this book!
I know there are so many more great ones!  I can't wait to check out the other link-ups! Check it out!!!