Whoo hoo! I have linked up for my first Linky Party at
The First Grade Brain
! Click below to check it out!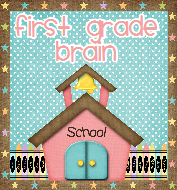 I have been posting for a while, but have had an attack of self-consciousness! I see all of these great blogs and wonder how I have anything to offer that is new and different. Checking out all of the awesome bloggers has truly renewed my love of teaching in the last year and the resources have breathed new creativity into my world. I am hoping that I have something to offer others as I reflect on what I do in my classroom!

If anyone does read this blog, please let me know if there are things you are interested in and I would be happy to post more about it!